September 06, 2004
Darth Sidious Estrich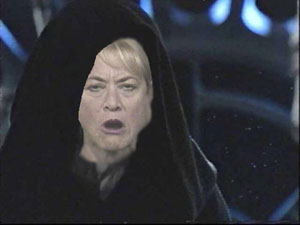 Give in to the anger, Susan.....feel its power in your veins.....the Dark Side will give you the power to combat those meany Republicans....
UPDATE: Heeeeeee's BAAAAAAAAAACK!
UPDATE DEUX: Is THIS all you've got, Darth Estrich? Kitty Kelley? Man, I can't wait until Kerry's divorce records get "accidently" unsealed....and what exactly was he doing during his "wandering" years, as he called them, between marriages to heiresses? Hopefully not pulling a Tom Ripley, if you know what I mean....
Posted by Steve at September 6, 2004 11:01 PM | TrackBack