September 03, 2004
EXCLUSIVE!! MUST CREDIT WONKETTE!!!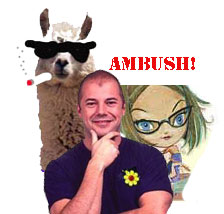 Remember, tomorrow is the big live Llama Ambush of Wonkette and Sully! 4:15 Central Daylight Time.
Okay, I did the checklist this evening:
fresh batteries for the dig cam, check
laptop bag, check
penicillin, rubber gloves, and a wire brush, check
"Dr. Rusty Shackleford" official APSA ID Badge, check
I got two different answers on whether the room has wireless (um, yes, and then no). It would be just like a bunch of political scientists to have a panel on blogging in a place without internet access. Anyhoo, I'm going over there tomorrow morning to test it out---reconaissance, you might say (insert John Belushi recon music from Animal House here). I'll keep you updated.
So far, Dr. Rusty, the Commissar, and Ace of Spades are beating the, err, bushes to get just the right questions.
Note to the Commissar: considering the circumstances, perhaps we should skip the traditional "clenched fist salute," if you know what I mean...
And, can someone get Jeff Goldstein's attention on this? I can try to go into a trance and channel some Protein Wisdom-level of hilarious insanity, but the real thing would be that much better....
YIPS! from Robbo: Jeff has his questions up. So does Kathleen the Cake Eater.

Posted by Steve at September 3, 2004 12:38 AM | TrackBack