October 25, 2005
The LLama Geography Quiz
Here's the picture again: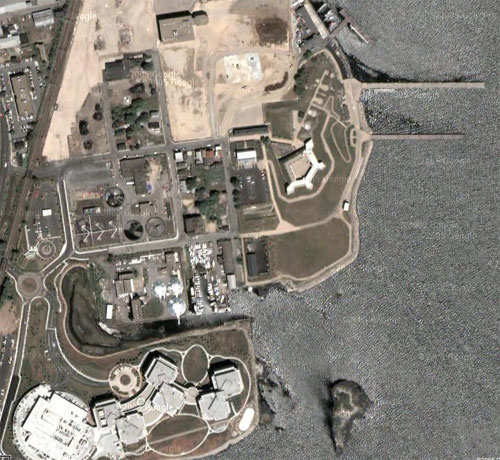 The guesses so far have been way off base, except for the persons who identified the semi-star shaped object as a fort of the same class as McHenry. The picture hasn't been altered in anyway (except to size), and hasn't had it's orientation shifted from Google Map standards.
From that, you can deduce it's on the Atlantic coast of the continental United States on the west bank of a river.
Good luck!
UPDATE: One more hint: the source of the controversy is the brown speck about 200 M SW from the 7 oclock orientation of the Fort.
YIPS from Steve: I shamelessly stole this contest idea (but not this particular image) from the superior intellect over at The Colossus. Go over there and give the Big Guy some Yips.
HINT 3: The Fort is named after a painter.
WE HAVE A WINNER! Actually, two winners---Ted of Rocket Jones and The Colusssus himself who correctly identified the brownish black speck as 8 East Street, New London, Connecticut---the house of one Susette Kelo that was seized by the surrounding City of New London, and the dispute at the heart of Kelo v. City of New London.
The cool geometric building is the new(ish) Pfizer research facility; the fort is Fort Trumbull, and the sandpit looking area is the remains of the Naval Underwater Sound Research Facility, known in the area as the Soundlab.
And what do the winners get? The Traditional One-Day Supply of Rice-a-Roni, the San Franciso Treat!
Posted by Steve at October 25, 2005 03:07 PM | TrackBack