October 18, 2005
Your Blue Ribbon Google Search of the Day
Maybe perhaps for the century, as someone from Bridgeport, Pennsylvania visited the LLama Abode after googling up this beauty.
That's right, your LLamas are the one stop shop for all things:
blues clues satan
Personally, I feel fulfilled as a blogger to know that we are a true success now: of the 45,200 sites that google comes up with connecting Blue, Steve, and the Prince of Darkness, we're #4. (Sadly, we're only #18 on MSN search for "Steve O naked", but hey, I guess that's a good thing, particularly since I'm right after Steve Jobs.)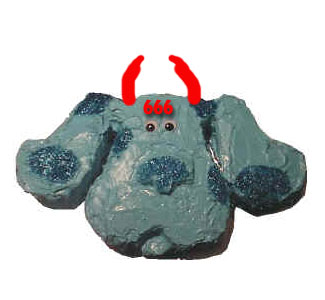 That, and the bizarre "Jennifer Millerwise" traffic has started again. Let me state right now this isn't funny: this started out as a joke last year when we started getting searches for said individual, and I put out a call for an explanation, as we were getting bizarre traffic looking for naked pics of Weather Channel babes (pathetic, I know!) It was a little stunt in google bombing---we would emphatically declare people who were looking for such things were complete pervs and we would have nothing to do with such tomfoolery! And sure enough, the traffic from the pervs came in, particularly after Wonkette linked to us on it. Now she's back in the nooz with the whole Plame/Flame/Fitzgerald thing from working with the Cheney people, and entries number 6 & 7 on google are our little stunt, right beneath an entry from her new boss---the Director of Central Intellligence.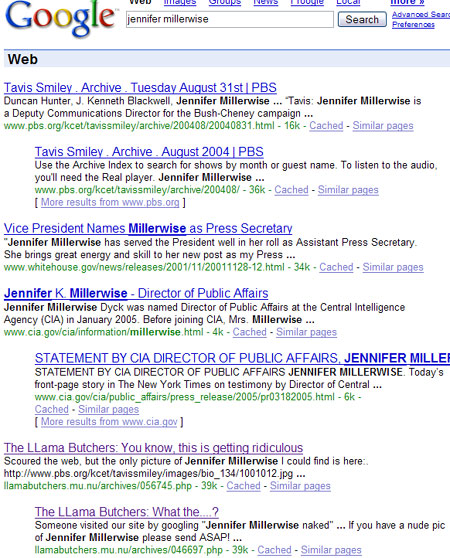 Ha, as Dave Barry would say! (sound of Steve-O sweating bullets, legally obtained ones at that!) It could be worse (really!); instead of the Spokesperson for the CIA she could be the one for the IRS.
UPDATE: TIME TO QUIT WHILE YOU'RE AHEAD CATEGORY: Now we're going to be in trouble with the Attorney General: we're #1 on Yahoo for "Llama mating pics." Thanks, INDC Bill! Sadly, alas we're only #6 on google for "gay klingon" for our expose.

FURTHER UPDATE: I just noticed that I screwed the pooch on the initial link---I thought I was linking to the hard page showing the individual search, but apparently sitemeter rolls that through so I'm taking down the link.
Posted by Steve at October 18, 2005 04:47 PM | TrackBack