September 12, 2005
Yesssss.....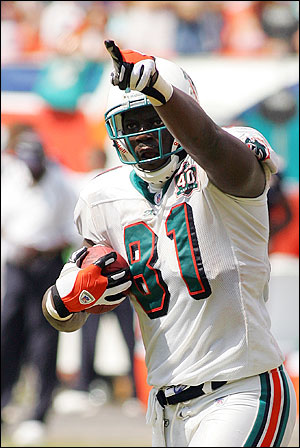 It all may very well end in tears as early as next week, but for the moment at least, I am going to savor the win: Miami 34, Denver 10.
Sure, you can pin it all on the heat if you like. Wusses.
UPDATE: Heh.
UPDATE DEUX: Speaking of the 'Fins, one of the primary reasons I'm such a fan was watching the great Larry Csonka when I was a boy. Wonder what he's up to now? James Joyner reports on his latest maritime adventure.
UPDATE TROIS: Think the local press is excited? Yeah, it's all well and good, but remember that their scalping knives are still within ready reach.....
UPDATE QUATRE: Wow, even Peter King has good things to say:
I think most of us owe Gus Frerotte a big apology. We've all pretty much thought of him as a hanger-on without any real upside to help a team except if the starter (and maybe the second-stringer) got hurt. Well, watching a good chunk of Miami's dismantling of Denver, I came to realize that what is good about Frerotte is what's so good about the NFL: Guys who are given up for done don't have to believe they're really done. They can fight their way out of it and still be good if they believe in themselves.
Posted by Robert at September 12, 2005 08:07 AM | TrackBack