April 18, 2005
Now Settle Down, Everybody
It appears Ann Coulter is not very pleased with the photo Time magazine chose to run of her on the cover of its latest issue. Fair enough - the picture is not especially flattering.
But now some folks are using this kerfluffle as proof of the MSM's leftist bias in general and Time's in particular. Michelle Malkin has a round-up and Ace has some views too.
Well, maybe. But.......
I carry no brief for Time. But in all fairness, I would point out to those who think the magazine only does this sort of thing to prominant Conservatives to jump in the Way-Back Machine with me for a moment to review this Golden Oldy, which inflamed a lot of folks on the Left back in '96 or so......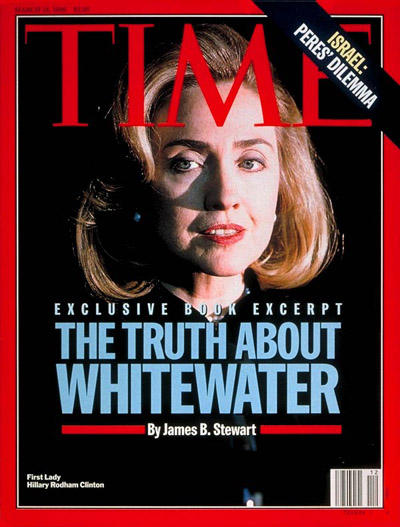 Hillary Rodhan Clinton in Night Of The Living Dead
I remember the screeching when this one hit the newstands, including the charge that the "M" was placed so to look like the devil's horns on HRC. Furthermore, although it's hard to see in this copy, the lines and wrinkles on her face were very much more prominant in the original. The woman really did look like a vampire. Needless to say, I was laughing.
Look, it strikes me as probably more accurate to say that Time does this sort of thing to anybody who puts its editorial nose out of joint one way or another. While it's probably true that this is mostly the case with conservative figures like Ann and El Rushbo, I think it's also fair to say that it isn't exclusively so.
Just sayin'.
UPDATE: John Hawkins at Right Wing News points out the silver lining to all of this. And Stanley at the Barking Moonbats seems to have the same idea.
UPDATE DEUX: Welcome Malkin readers! I take Michelle's point about the other Hillary pics. There are times when Time feels like it has to kiss her backside and times when it feels like it can spit at her. Such is the world of politics. My point was simply that this is not exclusively a liberal/conservative split. Oh, and I meant to highlight INDCent Bill's suggestion that we would be better off holding our fire for more worthy targets.
UPDATE TROIS: Who, us?
YIPS from Steve: Yeah, us. Sorry Robbo--my bad.
There are just some pshops that not even I will post....
Posted by Robert at April 18, 2005 03:25 PM