April 18, 2005
What, That's It?
A Mecha-Moth? No wonder I'm getting my monster butt kicked. This description makes me seem a little like Al Gore with wings.....
YIPS from Steve:
We already knew what the outcome would be, yet the conflict was essential nonetheless: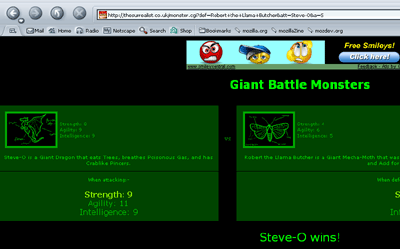 As they say, "Heh." "Indeed." And, "BRWACK! POLLY WANTS A CRACKER!"
Posted by Robert at April 18, 2005 01:31 PM