April 15, 2005
Just came in the mailbox
As pre-law advisors, I get junk mailings all the time from law schools. This one came in just now: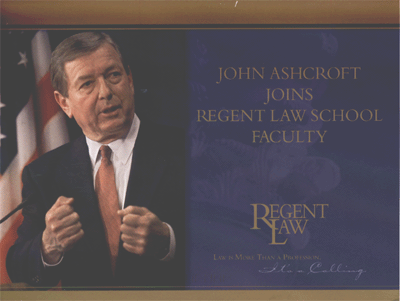 Regent Law School was founded by Pat Robertson.
Here's the money quote from the press release:
"Regent is a university known for excellence in providing an academically rigorous graduate education based on a biblical foundation," said Ashcroft, who will teach his first Regent course this summer in Strasbourg, France, where the university sponsors a summer program on international human rights issues.
The good side? Somewhere in metropolitan Lynchburg, Jerry Falwell is in a slow, simmering rage, ranting as to when Liberty University Law School can hire....James Watt?
ANYHOO, your assignment is to pshop the picture of Johnny, with a linkety-link fest to follow.
Here's one to get you started: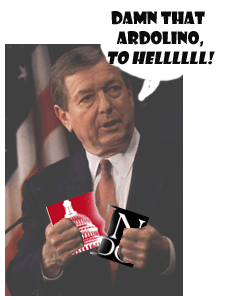 Posted by Steve at April 15, 2005 01:32 PM