March 30, 2005
Happy Seward's Folly Day!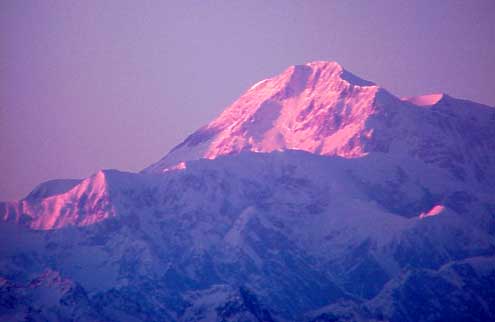 (Mt. McKinley at sunrise. Image courtesy of Alaska.Net.)
On March 30, 1867, Secretary of State William Seward agreed to purchase Alaska from the Russians for seven million dollars.
I've been to Alaska three or four times, going to Katmai National Park to fish. The first thing that impresses itself on you about the state is its gigantic proportions. Everything is so goddam.....big and far away from everything else that you are put completely out of your reckoning.
The second thing that impresses itself on you is the beauty of the place. The southern part of the state - from Juneau on around to the Aleutians, looks like the Pacific Northwest on steroids.
The third thing that impresses itself on you is that once you are clear of the big city (Anchorage) you really are out in the bush. This came home to me as we tried to share the Brooks River with the local Kodiak Bear population. It can be a tricky thing. You would be amazed at how quickly and quietly a thousand pound bear can appear out of the scrub while you're trying to cast a fly. You'd be even more amazed at how fast you can wade to the other side of the river and get up the bank when this happens.
UPDATE: This past weekend I was chatting with someone from Oregon about the beauties of the Pacific Coast and mentioned that I thought Mt. McKinley (yes, Mt. McKinley, dammit) was around 20,000 ft tall. She could not believe it. Well, thanks to the marvels of the Internet, I see that the exact figure is 20,320 ft. Ha! You got that? Ha! Ha!
Oh, and if you're like my cousin and have been seduced by the dulcet tones of the Cylon-like Bimini GPS navigational system, McKinley's coordinates are 63° 07' N, 151° 01' W. If you ever decide to go, I'd strongly recommend writing this down on a piece of paper, lest Bimini take advantage of your complete reliance on her to lead you into an ambush.
UPDATE: I tried to send a comment to Jimmie congratulating him on the musical scoop (see the trackback below) but I done got Spam Karma'd. Evidently, the spam police don't like yipping.
Posted by Robert at March 30, 2005 11:15 AM