March 16, 2005
Gratuitous Domestic Posting (TM) -Outdoor Division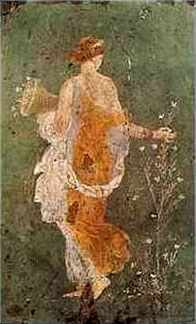 The Primavera of Pompeii, one of my favorite Classical Images.
Link courtesy of A. Suski
A sure sign that Spring is in the air: Our old friend Chan the Bookish Gardener is garden blogging again. Nip on over and check out her link to (an) Unofficial Henry Mitchell website, as well as her tribute to black dianthus.
As a matter of fact, I had quite a pleasant surprise this week. Two years ago, my sister gave me some tulip bulbs for Christmas, which I planted in a little patch bordering our front walk. Their first Spring, they were spectacular, a sea of pale pink. Last year? Nothing. Nada. Zip. This year, however, they (or a fair percentage of them) seem to be back. At least they're growing. Whether they flower remains to be seen.
I am officially starting to get excited about gardening again.

Posted by Robert at March 16, 2005 03:25 PM