March 15, 2005
Red Meat.....We Crave Sustenance!*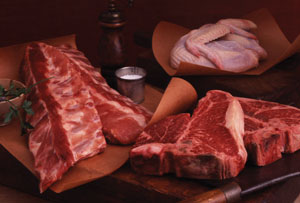 "Good Things," as Martha would say. Courtesy of Whole Foods.
I had forgotten, but thanks to Jon at Misplaced Keys, I am reminded that today is the Third Annual Eat An Animal for PETA Day. Go check out Jon's moosey contribution to the cause.
I suppose the reason the day slipped my mind is that to me "Eat an Animal Day" is the equivalent of "Breath Oxygen Day" or "Put One Foot In Front Of The Other To Walk Day". I mean, well yeah......as opposed to what?
Durn, now I'm all hungry. And it's still a couple hours till dinner.....
(*As always, the floor is open for identifying the quote.)
UPDATE: Quote successfully identified. Also, thanks to Beautifully Atrocious Jeff, my appetite has been temporarily suppressed. What is "pleather" anyway? Or do I want to know?
UPDATE DEUX: Yow! Kevin at Wizbang has got me....er....hungry again.
Posted by Robert at March 15, 2005 04:48 PM