March 14, 2005
Fear and Loathing In Disneyworld - Prologue
As you can tell by now, I am back from my travels to central Florida and Uncle Walt's Cultural Reeducation Camp. We got in yesterday around lunchtime. It is almost exactly 900 miles doorstep to doorstep between the Butcher's House and the In-Laws' place, where we stayed when not tramping around Barad-Mickey.
I sat down last night to compose the first of my essays about the trip, titled as I proposed last week, Slouching Toward Kissimmee. I wanted to put down some of the impressions I picked up while slogging through some 2100 miles of drive time last week. When I finished, it seemed a pretty good piece. But upon rereading it this morning, I realized that I had simply churned out a 3000 word screed on how much I hate I-95. Evidently, I still need some time to de-jangle before I can say anything both coherent and interesting.
So in the meantime, just to limber up the ol' bean and get back into the flow, I'll confine myself to non-Disney related posting today.
Three things about how things went here while I was out:
1. As soon as I left, the TTLB Ecosystem launched us into Playful Primate status. As soon as I'm back, we're back down to Large Mammalian rank. Don't think I don't notice these things.
2. Thanks much to our own LMC for jumping in - and many apologies to Mrs. LMC for giving him a new toy to play with!
3. Message to Kathy: Neener, neener, neeeeeeener!
Yip! Yip!
YIPS from Steve:
Kath calls it "">admirable restraint" but I've got another word for it.....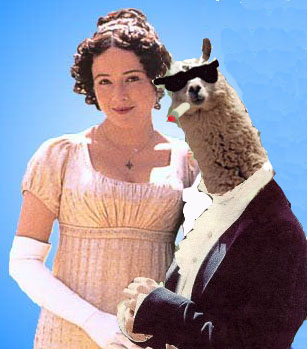 Anyhoo, I'll confess I was sweating bullets having the Cake Eater guest blog for the week, what with all those pics of the LLamas, Bradley Whitford, Susan Sarandon, and Mary Steenburgen playing leather Twister(TM) lying around the Tree Fort. I thought for sure Kath would blow our cover, but I guess letting her play "CJ" in our nightly round of naughty jammy readings of old West Wing scripts was the secret to her silence...... (you know, such as tonight's very special episode, Leo's been naughty and accidently nuked Taiwan, and now needs to be punished)
Posted by Robert at March 14, 2005 10:14 AM