February 25, 2005
Pedro Sez, "Read Theese Post!"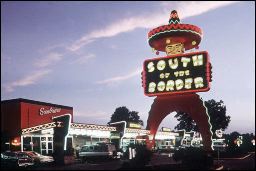 (Image found at the Augusta Chronicle)
As regular readers will know, it's just over a week now until the Disney Death March begins. The other day, a commenter suggested that we stop by South of the Border on the way down.
No freakin' way.
But this got me thinking about the Billboard Issue.
For those of you unfamiliar with the East Coast. SOTB sits on I-95 right at the North/South Carolina border. Stretching away in either direction are a series of billboards advertising the place. They start north and south of the Virginia and Georgia borders and increase in density the closer you get to the place. The last few miles, they are literally spaced a few hundred yards apart.
When I was in law school in Virginia and for a few years after I'd moved to the Dee Cee area, the 'rents lived in South Carolina. So I spent a goodish amount of time driving up and down this stretch of highway. The sight of those billboards used to give me the twitch - once you noticed them, you couldn't stop looking. For they weren't just billboards, they were examples of what can only be called High Kitsch, Slumming Division. Done in painfully bright colors, almost all of them featured Pedro, the cartoon Mexican who was (is) SOTB's mascot. He would exhort drivers to stop at the place in broken cartoon-Mexican English, often using some kind of bad pun or other joke. Some of the billboards were actually amusing. (One of my remembered favorites: "No, Virginia, 95 is not the speed limit!) Many of them inspired groans and knuckle-whitening gripping of the steering wheel, especially after the eighth or ninth viewing.
After making the trip four or five times a year for several years, I had last been down in 1996 for my grandmother's funeral but didn't make it again until my niece's Christening in Charleston in 2003. On that trip, I was too busy dealing with kids throwing up their lunches to pay that much attention, but it struck me that something had happened to the billboards - Pedro didn't seem to be there any more and many of the messages were considerably tamer than I had remembered. Well, it turns out this was not my imagination: The P.C. Police had done hauled Pedro in.
A shame, really, at least in the sense that it represents a victory for what Berk Breathed once called "offensensitivity". But a good thing, too, in terms of preserving Dad's sanity. There's no telling what sort of horrible psychiatric episodes seeing them again might have induced in me this time, especially considering what I think of where I'm going.
Anyhoo, the Billboard Issue I mentioned earlier is this: The older Llama-ettes can both read now. If I tell them about the billboards ahead of time, it might give them something to watch for on the way and make the trip go a bit faster. On the other hand, they may want me to explain the joke or point of each one to them, an exercise the mere thought of which makes me tired.
Plus, there's one in particular (assuming it's still there) that could cause all sorts of problems. It reads: "Keep screaming, Kid! They'll have to stop at South of the Border!"
Experience tells me that I do not want them to see that one.
Posted by Robert at February 25, 2005 02:29 PM