February 24, 2005
Happy Birthday, Winslow Homer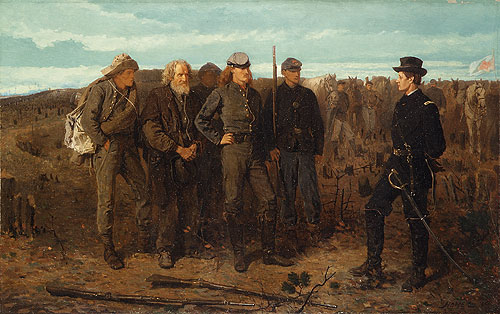 Prisoners From The Front, 1866 (Image courtesy of San Diego University)
Today is the birthday of Winslow Homer, born in Boston in 1836 and easily one of America's greatest and most influencial painters. His land- and seascapes are things of beauty in and of themselves. But he also captured the essence of America in the latter half of the 19th Century via his paintings of boys at play, reapers and teachers at work and other subjects.
Early on in his career, Homer was employed by Harper's Weekly to cover the Civil War. I have a book of his collected sketches and paintings from that period which is fascinating not only from an artistic point of view, but from a historical one as well.
The painting above, Prisoners From The Front, is an interesting character study in which Homer explores the contrast in combatants. The calm, righteously self-assured Yankee officer supposedly is modelled on Brigadier General Francis Barlow. The three rebel prisoners represent the stratification of Southern society - the haughty Cavalier stands in front, defiant and dashing, while the two sons of the soil, his social inferiors, look on bewildered and apprehensive.
Fans of the movie Gettysburg might recognize this scene as the one in which Tom Chamberlaine talks to the Confederate prisoners on the way to the battlefield. C. Thomas Howell ain't no Francis Barlow. And, as I think I've ranted elsewhere in the past, I believe that by having the last rebel in the line act as the leader, speaking words of wisdom about the hell of war, the producers either didn't know or didn't care about what Homer was trying to accomplish here.
Posted by Robert at February 24, 2005 01:17 PM