February 23, 2005
Gratuitous Musickal Posting (TM)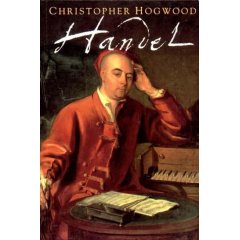 (Image courtesy of The Classical Music Pages)
Today is the birthday of Georg Frideric Handel, born in Halle, Germany in 1685 (making him just under a month older than Johann Sebastian Bach).
It's ridiculous to say that I love Handel's music. I mean, of course I do. It is not nearly as intellectual as Bach's, but it makes up for this in being more theatrical. Compare Handel's Opus 3 and 6 Concerti Grossi with Bach's Brandenburg Concerti, for instance. I don't say one is better than the other. Rather, I am glad to have the choice.
One thing I've noticed about Handel's music that I don't like is his occasional practice of not finishing out a phrase properly, squandering the last few notes as he goes on to another idea. (By way of metaphor, I equate this with the practice of some horses of economizing on their jumps, landing short over their fences instead of getting in a good, long "fly".) Not having any theoretical training, I don't think I could describe this practice properly, but I can hear it. It's a small distraction, but a distraction nonetheless.
Oh, one other thing. Everyone loves the "Hallelujah" Chorus from the Messiah. But I'm not sure many people realize these days that this music is meant to be a coronation anthem celebrating Christ's ascendancy to the Throne of Heaven. (In fact, it sounds very much like a number of such anthems written to celebrate the crowning of George III.) Given my recent concerns about residual feudalism in Christian worship, I wonder if we shouldn't be reexamining the appropriateness of this piece of music. I mean, it's like so hierarchical.
Posted by Robert at February 23, 2005 11:21 AM