February 22, 2005
Mus Iactus Est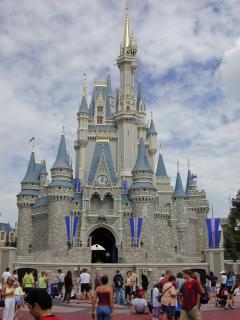 It's official: I'm going to Disney World.
Yes, two weeks from today I'm going to be chin-deep in Magic Kingdom Shlock. I get the willies just reading about this stuff on their website. Imagine, if you will, how I'm going to deal with it in person. ("Never completely sober," is, perhaps, as good an answer as any.) Just to give you an idea of what's in store, I am informed that we are signed up one morning to have breakfast at Cinderella's Royal Table. According to all the Disney afficionados I've spoken with (and it's spooky weird how many of these people exist), this is supposed to be a major deal. Hmph.
I know, I know, it's all "for the children". Maybe. But I never went when I was a kid and you can tell how well-adjusted I am now....(grumble, grumble, grumble)
As a matter of fact, what prompted me in the end not to hide behind my work schedule was the thought of the Butcher's Wife - who swore she was going no matter what I did - driving all the way to Florida from Dee Cee on her own with the Llama-ettes. I just couldn't bear the idea of her having to deal with that cast-iron bitch of a trip all by herself.
The Missus knows all about what I think of the whole business, so we've struck a deal: I get to blog about the trip (call this a test post) if, in exchange, I at least put on a pretend smile while I'm there. This sounds reasonable - a pretend smile seems quite appropriate for a place where everything else is fake.....
Anyhoo, I doubt if I'm going to have much access to the Web while I'm down there. I plan to take some notes and do a series when I get back. In the meantime, we're finalizing plans to bring in a Special Guest Blogger in my absence. More details on that as we fix them up.
In the meantime, I may as well get used to it: Squeek! Squeek! Squeek!
UPDATE: Just to get yourself into the swing of things, why not take the What Disney Princess Are You Quiz, courtesy of the Mad Sister? (For what ought to be obvious reasons, I passed.)
Posted by Robert at February 22, 2005 12:56 PM