February 22, 2005
Speaking of accommodation...
INDC Bill has some on-point thoughts on the future of the GOP, and those who might be itching to turn this into a West Coast/East Coast rappers war between Evangelicals and libertarians.
To be perfectly honest I'm not worried about this in the short run: the Republican coalition became frayed in the two elections after the end of the Soviet threat with the defection of the Perot movement, and look what it got us: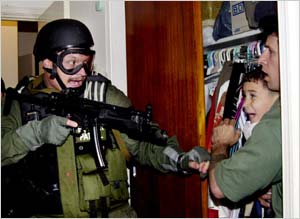 (Elian + Smiling Osama)/Tricky Billary= Republican disunity
is the formula we need to keep in mind.
In short: I think the fear might be a tad overheated, but at the same time I will punch the next person I see with a "Niccodemus aint no Republican" button. And I sure as heck don't want to be part of a party which has no room for Stephen Green let alone apostates like Bill.
Posted by Steve at February 22, 2005 10:29 AM