February 16, 2005
More Sci-Fi Babe Polling: Attack of the Cyber-Babes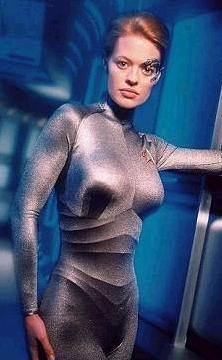 (Image courtesy of WorldHistory/Wikipedia)
JohnL has the latest Sci-Fi Babe Poll up over at TexasBestGrok. This week, it's the battle of the Babes in the Machine.
Take a random guess as to who I'm backing in this one. Go ahead. Funnily enough, I remember the first time I actually saw Jeri Ryan without all the cyberstuff - it was an episode of Voyager where she dreamt of being Borg-free or some such. Also, her hair was down and she had some flowing dress on. My first reaction was, "Er....I kinda liked her better the other way."
I'd also like to make abundantly clear that my dislike of Trish Helfer's Cylon has nothing to do with my hatred of the new Battlestar Galactica series. I just don't think she's that attractive. As for Kristanna Loken's T-3, well, she always reminds me a wee bit too much of Alicia Silverstone in a bad mood.
As always, vote early and often. And be sure to check out the Gallery of Winners. I was delighted to see that Tea Leone took the honors last week.
UPDATE: Just to quell any nasty suspicions of uber-geekery out there, no, I have never asked the Butcher's Wife to "assimilate" me.
UPDATE DEUX: Any Photoshopping of Jeri and a Llama is strictly verboten.
YIPS from Steve: You mean like this (scroll to the bottom) or this?
UPDATE TROIS: The Maximum Leader begs to differ. Little does he appreciate the difference between prudery and discretion.
Posted by Robert at February 16, 2005 09:23 AM