February 15, 2005
Lobstergate!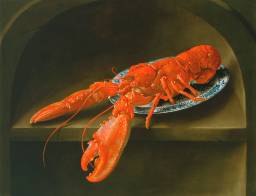 Charles Collins, Lobster on a Delft Dish, 1738
(Courtesy of the Tate Gallery)
Here's an article from CNN about a new Norwegian study that claims lobsters most likely do not feel pain when boiled. The study backs up long-standing opinion that lobsters simply do not have the cranial capacity to feel pain the way more highly-evolved animals do.
Needless to say, this has got PETA's undies in a wad. Said an unidentified spokesperson, "Hey, lobsters are people too!" (As I recollect, a few years ago PETA or something akin to it was trying mighty hard to get the red lobster removed from Maine license plates on the grounds that the symbol was a promotion of animal cruelty.)
You know what? I don't give a damn. I luuuuuv lobster. And I'm going to keep eating them. So there. Now, where'd that lemon-butter go?
UPDATE: I haven't found a copy of the Norwegian study referenced in the article, but here is a history of the Maine license plate saga - complete with pictures!. Apparently, the state did ban the plates for a while but has since relented.
UPDATE DEUX: I should have mentioned that I fully respect other people's decision not to eat lobster themselves. That just means more for me. *Smack*

Posted by Robert at February 15, 2005 09:49 AM