September 08, 2005
Gratuitous Llama Virgin Netflix Review #5*
*dedicated to the inauguration of my Netflix account with movies I've never seen before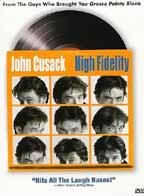 I was going to call this "Bridget Jones' Record Shop" but changed my mind. I had no real idea what the film was about before going into it so I was rather surprised that it turned out to be, essentially, a guy chick flick. (What would one call this? Gick flick? Bick flick? Mick flick? I dunno.)
I think I can understand why the Missus didn't really much care for the film - while she likes Cusack a lot, I can see her being put off by the movie's decidedly anti-sentimentalist tone about relationships, in particular Rob's final realization that it's time to grow up:
Rob: I'm tired of the fantasy, because it doesn't really exist. And there are never really any surprises, and it never really...

Laura: Delivers?

Rob: Delivers. And I'm tired of it. And I'm tired of everything else for that matter. But I don't ever seem to get tired of you, so...
(Well, I can't find the rest of the quote, but it expands on this idea.)
My only problem with the film is that I could never warm up to Laura. In fact, when Rob got into her car in the rain after the funeral, I half expected (and hoped) that he was going to finally dump her. I was tired of her after only a few minutes and I never quite understood why Rob wasn't. (I understand the point about recognizing and appreciating what's in front of you. But when I finally had this epiphany myself, I didn't set about trying to salvage a pre-enlightenment trainwreck of a relationship. Rather, I just kept it in mind as I moved forward.)
As for the rest of the cast, absolutely terrific. But Ian? I felt like Indy looking down into the tomb full of snakes: Tim Robbins. Why did it have to be Tim Robbins?
Oh, one other thing. Having seen the movie actually got me interested in reading Nick Hornby's book, even though it's pretty far off my usual literary path. Anybody out there read it? Any thoughts?
VERDICT: Definitely worth it. Definitely would rent it again.
UPDATE: In order to stem the flood of pro-Robbins hate mail, let me just clarify that I give him full marks as two major characters in cinematic Who's Who: Ebby Calvin "Nuke" LaLoosh and Erik the Viking. But that's enough for me, thanks.
Posted by Robert at September 8, 2005 09:28 AM | TrackBack