February 11, 2005
Gratuitous Musickal Posting (TM)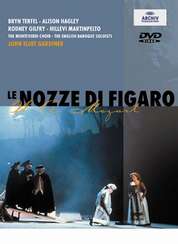 Okay, I really am going to say something arty now. I plan to pop in my video of Le Nozze di Figaro this evening.
This performance came out right around the time Bryn Terfel started to become such a muckety-muck in the operatic world. And really, the man was made to play Figaro. (I saw him in a broadcast Met production of Don Giovanni a few years back where he was actually rather disappointing. The Don is a snake-tongued seducer. Terfel just made him look like a lout.)
Anyhoo, here Terfel (along with the rest of the cast) is quite solid. Unfortunately, this is a recording of a live stage production, so it comes with all the attendant drawbacks, both audio and visual. But one puts up with these things.
One thing that I don't much care for is the failure of the producers to resist the urge to plug a revolutionary subtext here and there. Most notably, during Figaro's aria "Se vuoi ballare," he holds up one of the Count's wigs and its stand in a manner suggesting a guillotined head. Also, in the reprise of the Rustics' chorus, they menace the Count with pitchforks and sheep crooks. I've never read Beaumarchais' original, so don't know how much of a revolutionary undercurrent there might have been in it, but I think this is out of place in Mozart's version. Mozart was something of a liberal, but no radical. There is no suggestion that the entire feudal structure should be dismantled. Rayther, the tension of the plot is caused by the Count attempting to go back on his pledge to abandon the droit de seignur and get his hands on Susanna and the efforts of Figaro and his allies to steer the Count back to his proper bed. (I have an extremely interesting book called Mozart and the Enlightenment by Nicholas Till that examines Mozart's operas from the perspective of and as commentary upon late 18th Century socio-political thought.)
But never mind politics - the opera is a pure delight to listen to and watch. And this is an extremely enjoyable performance of it.

Posted by Robert at February 11, 2005 02:24 PM