February 08, 2005
Orgle-licious Book Recommendations
I just wanted to send a helping of Big Llama Yips! to Dan for putting me on to this book: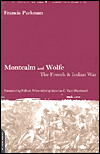 Montcalm and Wolfe, The French and Indian War by Francis Parkman.
Originally published in 1884, I suppose this is the kind of book that Everybody Used To Read but, given that it is rather scanty when it comes to the plight of vegan lesbian poets on the Appalachian Frontier, doesn't get much of a viewing these days. On the other hand, I can't possibly imagine how anyone could hope to understand the root causes of the American Revolution without first understanding the political situation before, during and immediately after the French and Indian War, and this book does a superb job of laying that situation out. It also portrays, in chilling detail, the pure savagery of life on the Colonial frontier. One can only imagine how awful their previous lives must have been in order to make people willingly take up such an existence, many for a violently forshortened period. One can also imagine just how tough the survivors were, which led me to remember one of Dave Letterman's Top Ten Reasons the Colonies won the Revolutionary War: Their diet, tea and crumpets. Our diet, raw squirrel meat and whiskey. There's more truth to that joke than you might imagine.
On a side note, I was doing a little additional research on Fort Lawrence, an emplacement built by the British in 1750 in what is now Cumberland County, Nova Scotia in order to parry the French efforts to undermine British control of Acadia (given to the Brits under the Treaty of Utrecht but continually fought by the Acadians at the prompting due to the outright threats and blackmail of Abbe La Toutre and other French agents until the Brits got so fed up with it that they shipped all the Acadians out). I came across a site for a Fort Lawrence/Beaubassin Heritage Association which apparently had started a project to build a reconstruction of the Fort. For some reason, they seem to have had a falling out with the Cumberland County Council and had their entire project shut down. The tone of what commentary there is on the site suggests that the closing was based on bad blood between the Association and the Council. Your Nova Scotian tax money at work, apparently.
UPDATE: More Llama Yips! to commentor John for pointing out to me Fort Frederick State Park, located about an hour from my house, site of an important Colonial defensive position. (According to the website, many Colonists fled there for shelter during Chief Pontiac's uprising in 1763. Can't say that I blame them.)
Now that the littlest Llama-ette has turned three, I can start thinking seriously about some day trips to the various Colonial, Revolutionary and Civil War sites scattered all over my neck of the woods. (They've been to the Jamestown Settlement and Colonial Williamsburg a number of times, both of which they thought were pretty neat.) By the time I get through with them, the gels are either going to love history or hate it. Hopefully, at least they'll know something about it one way or another.
Posted by Robert at February 8, 2005 10:37 AM