January 13, 2005
Speaking of Cherished Books and Movies
Do you think these are the faces of Peter, Susan, Edmund and Lucy?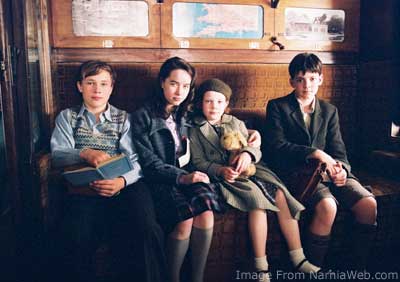 NarniaWeb is watching the development of the new movie version of The Lion, The Witch and the Wardrobe (set for release next Christmas) and snagged this pic of the future Kings and Queens of Narnia.
Frankly, I'm moderately hopeful about this production. At least visually, it seems to have the goods. I think the kids look okay, but Tilda Swinton strikes me as damn' near perfect for the White Witch. (Had Nichole Kidman got the part, as was rumored was going to happen, I would have refused point-blank to see the movie.)
As for authenticity, well, who knows. But here's what NarniaWeb has to say about one important question:
Is this going to be a secularized Hollywood version or will C.S. Lewis' Christian themes stay intact?
It's no secret that C.S. Lewis was an outspoken Christian and his faith was woven throughout everything he wrote. Narnia is no exception and much of the stories are allegorical in nature. Will Hollywood have its way and strip out Lewis' spiritual messages? Not so, promises Douglas Gresham, co-producer and stepson of Lewis himself. A committed Christian, Gresham has vowed not to "change the words of the master." Indeed, Walden Media itself has a track record of family-friendly films so it seems that the film will be in good hands. Many are concerned that Disney's influence will water down the Christian themes which run through the Narnia stories, but it's important to remember that Walden Media is ultimately in charge of the film, not Disney.
Go on over and browse around to find out more.
Posted by Robert at January 13, 2005 01:21 PM