December 30, 2004
"I Don't Know - I've Never Kipled."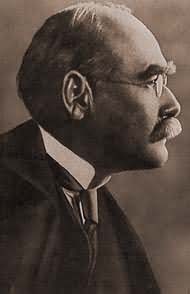 Today is the 139th anniversary of the birth of Rudyard Kipling, a poet of whom I am quite fond. Here is a nice Kipling Society link where you can go and wallow in all things RK.
Working in Dee Cee and being actively involved in political debates, I am very often reminded of one of my favorite of his poems, The Gods of the Copybook Headings. Money, er, stanzas:
As it will be in the future, it was at the birth of Man
There are only four things certain since Social Progress began.
That the Dog returns to his Vomit and the Sow returns to her Mire,
And the burnt Fool's bandaged finger goes wabbling back to the Fire;

And that after this is accomplished, and the brave new world begins
When all men are paid for existing and no man must pay for his sins,
As surely as Water will wet us, as surely as Fire will burn,
The Gods of the Copybook Headings with terror and slaughter return.
UPDATE: Speak of the devils, the Colossus has a post up on the idea of forming a kind of U.N. version of FEMA to deal with global disasters like the tsunami.
I'm with the Big Guy on this. Thanks, but no thanks.
Posted by Robert at December 30, 2004 02:49 PM