December 27, 2004
Debunking a Christmas Meme
I just remembered something that I was ranting about to the ever-patient Butcher's Wife on Christmas Eve, namely the annual whining about the "dread" instructions "Some Assembly Required". This is a meme that has reached a saturation point equivalent to the panic in which Dee Cee residents love to indulge at the slightest hint of a snowflake within a hundred mile radius. In fact, what set me off was an article in the usually sane Wall Street Journal marketplace section about the supposed hardships people face trying to figure out the assembly of their (mostly children's) presents and the efforts of companies to placate their customers with more "user-friendly" instructions, including the use of words of one syllable wherever possible.
I hate this carping, hate it, because I think it represents not reaction to a genuine problem but instead simply decadent, self-indulgent, morale-sapping whining. People, what happened to that Frontier Spirit? Where is the American Can-Doism? What became of good old-fashioned Yankee Ingenuity? Do you think our grandsires, the Greatest Generation, who stormed the beaches at Normandy, would have started kicking their little heels and pounding their little fists because their kids' "Beauty and the Beast" play castle required them to figure out how to insert tab A into slot B? Do you think our parents who faced down Ivan and brought the Soviet Juggernaut to its knees would need counseling to overcome their feelings of anxiety because the printed instructions that came with their new stereo system are in three different languages and actually require them to, gasp, turn over the freakin' page? Of course not! And what would they think of us now? Think they'd lost the war, that's what. Think this country had been reduced to a gang of socialist Euro-weenies, they would. This makes me ill.
I've had to put together many toys and other presents in my puff, often times with instructions that were vague or otherwise unclear. I've also had to overcome instances where pieces did not fit together as they should. But I have never, ever had any trouble doing this. There is no problem here. All it takes to overcome these glitches is a little common sense and (on occassion) a bit of creativity. It does not require an orgy of panicked self-pitying helplessness.
In short, I don't want to hear any more of this nonsense. Don't make me start taking names.
UPDATE: Yikes! As The Colossus points out in the comments, Lileks was on about this today. But this is what I'm talking about. Did he wilt? Did he cave? Did he collapse Denathor-like under the oppressive weight of the thought of the Dark Manufacturing Lord's wrath? No! Rayther, he remained calm, cool and collected and stuck to his post. Well done, James.
I'd also note that Lileks' crisis centered on a couple of (temporarily) missing pieces. I sometimes finish a project with pieces left over. These I collect together and place in The Box of Many Things. No do-it-yourselfer should be without one. In a situation like James', it can really make the difference.
FURTHER UPDATE:
How 'bout a little Handyman Cheesecake?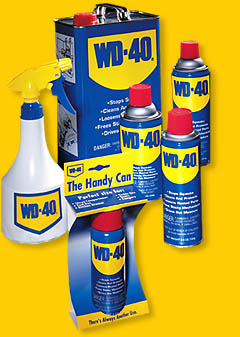 Mmmmmm......WD-40.......Mmmmmmm
Yips! to the Enlighted Cynic for the link.

Posted by Robert at December 27, 2004 12:26 PM