December 27, 2004
A New Shelf Buddy
For a long time, my copy of Sebastian Junger's The Perfect Storm led the life of an outsider in my library. The trouble was that I could never quite figure out where to put it. Yes, it's a sea story, but it's a lot more than that, so it really didn't fit in with my other maritime books. Yes, it's a current events/human interest story, but I didn't really have any others on the same topic (Man's struggles with Nature). And yes, it's an examination of natural phenomena. I suppose it could have gone with a couple of David Attenborough's Living Planet series books I picked up somewhere for the kids, but again, the fit just did not seem right. Thus, Perfect Storm remained isolated, a stranger in a strange land.
Well no more, because the Missus gave me this nifty little gem for Christmas: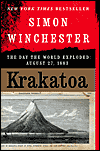 Krakatoa: The Day the World Exploded, by Simon Winchester. The perfect stable companion for the Junger book. I think the two will be very happy together.
That is, of course, once I finish reading Krakatoa and actually put it on the shelf. But at the rate I'm going, that won't be very long.
UPDATE: How odd that I should have started reading this book on this day, of all days.
Posted by Robert at December 27, 2004 11:24 AM