December 23, 2004
Gratuitous Christmas Music Recommendation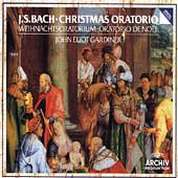 Handel's Messiah, of course, gets the lion's share of attention during the Christmas season, but if you are not already familiar with it may I heartily recommend that you pick up a copy of Bach's Christmas Oratorio? When I was a kid, I used to listen constantly to a record of highlights from the piece. A few years back, I bought the complete performance by John Eliot Gardiner, with the English Baroque Soloists and the Monteverdi Choir linked here.
This piece is really a compilation, with parts meant to be performed on different days between Christmas Day and Epiphany. But that doesn't mean you can't sit through it all at one go. Believe me, the time will fly by very quickly.
It is probably not profitable to compare these respective works by Handel and Bach, but I will say this: While I think both pieces are beautiful, the spiritual beauty of Messiah , as it were, lies for the most part in the text. On the other hand, the very music itself of Bach's Oratorio, to me, is a critical part of the spiritual experience, at once both a form of worship and at the same time a dim echo of the choirings of the cherubim and seraphim. (Every now and then we sing a hymn at Church to the tune of the Choral Wie Soll Ich Dich Enpfangen, which never fails to give me chills.) Handel's Messiah inspires us to seek to touch the Holy Ghost. But listening to Bach's Oratorio, I feel I am in its presense already.
Trust me on this.
UPDATE: Gee, I guess it's the inner Catholic in me coming out, because I was listening again this evening to this piece and two things occured to me: 1) I am intensly ashamed of myself for my own many weaknesses; 2) I have a tremendous amount of respectful awe and gratitude for those like Bach who inspire me to try to be better.
Posted by Robert at December 23, 2004 12:44 PM