December 22, 2004
"I beg to present you as a Christmas gift the city of Savannah."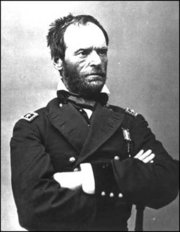 On December 22, 1864, Gen. William T. Sherman sent this message to President Lincoln, announcing the capture of Savannah by Union forces.
I like to remember this event in particular because a certain other Llama around here, for all of his Connecticut Yankee sensibilities, actually has an ancestor who took part in the fifteen minute Confederate defense of the City. I, on the other hand, who have at least some Southern sympathies,* have an ancestor who fought for Sherman in the Atlanta campaign, although by the time Sherman hit Savannah, he and his unit (the 10th Ohio Independent Battery), had been posted to garrison duty in northern Georgia.
Funny old thing, Life, innit?
*More on that when we come around to Robert E. Lee's birthday. No, I don't support slavery or the CSA's right to secession arguments, so nasty emails are not necessary.
Posted by Robert at December 22, 2004 10:38 AM