December 21, 2004
Linux on the true meaning of Christmas
Forget Linus, THIS is enough to get me to break out into the Snoopy dance.
Actually, we did that last night, before dinner: I cued up the Vince Guaraldi Charlie Brown Christmas CD, and the kids and I did the Snoopy~Woodstock dance around the Christmas tree. Sure, Currier & Ives would have used their engraving styluses to gouge out their eyes, but I liked it.
Guaraldi has been in heavy rotation as of late, as has various versions of the Nutcracker, Wyndham Hill, some Amy Grant thingee from 1993ish, and a CD of our church's choir doing all the Canterbury standards. The White Whale for me, though, is/would be a CD of the original Bing Crosby Christmas Album, the one where the first song is "Adeste Fidelis," and he sings the first stanza in beautifully correct pre-Vatican Two Irish American Catholic Latin. And by copy of the original I mean a CD that would include the pop and hiss of the LP....
So, what IS the definitive Christmas album, keeping in mind that the correct answer is: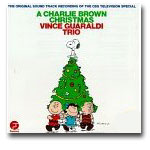 YIPS! from Robbo: I don't know how many hundreds of times I've listened to this album, but I simply never get tired of it. Ever.
Posted by Steve at December 21, 2004 08:06 AM