December 26, 2004
The Meaning of Christmas
(I'm leaving this post at the top of the page all week by way of a Christmas card to our readers. Scroll on down for newer fare.)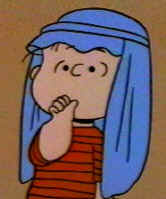 Although it is generally silly to speak of transcendence and cartoons, I've always felt that there was one very important exception to this rule, namely, Linus' recitation of Luke 2:8-14 in "A Charlie Brown Christmas". Even as a kid, I recognized that there was something very special about the moment when Linus walks out to the front of the stage, the lights go dim around him, everything is hush and he begins to speak in calm, measured tones:
And there were in the same country shepherds abiding in the field, keeping watch over their flock by night.

And, lo, the angel of the Lord came upon them, and the glory of the Lord shone round about them: and they were sore afraid.

And the angel said unto them, Fear not: for, behold, I bring you good tidings of great joy, which shall be to all people.

For unto you is born this day in the city of David a Saviour, which is Christ the Lord.


And this shall be a sign unto you; Ye shall find the babe wrapped in swaddling clothes, lying in a manger.


And suddenly there was with the angel a multitude of the heavenly host praising God, and saying,


Glory to God in the highest, and on earth peace, good will toward men.
As ridiculous as it may sound, just reading these words causes me to start tearing up. And Linus is absolutely right: This is the true meaning of Christmas.
I sometimes used to wonder how it was that in the midst of a rather poorly animated cartoon voiced over by a gang of child actors this moment could have come off as perfectly as it does, suddenly passing beyond the limits of the medium and touching on the greatest of glories. But it occured to me that the answer is really quite simple: Because Charles Schultz believed in what Linus said. I do, too. Glory to God in the highest, and on earth peace, good will toward men.
On that note, I wish to express my warmest wishes for the season to all of you who drop by our little piece of silliness, whether you're regular readers or just passing through. I'm sure plenty of you follow different faiths than I do, or may not even have a faith. That's okay. The message of Christmas on earth is not confined to a select group of believers but, as the man says, extends to everyone.
Merry Christmas and God bless you all, every one!
Posted by Robert at December 26, 2004 09:38 AM