December 15, 2004
Battle of Nashville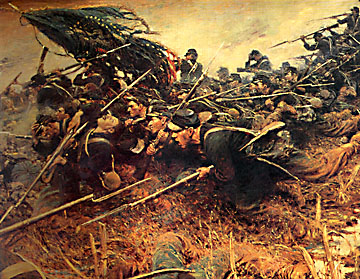 (Okay, this entry is in part because I've always liked this painting and this is a good excuse to post it.)
Today is the 140th Anniversary of the Battle of Nashville, which pitted Union General George Thomas against Confederate General John Bell Hood. Hood's objective in invading Tennessee had been to force Sherman out of Georgia to chase him.
Thomas, whose command was in front of Hood, fought a delaying action, inflicting severe losses on Hood at the Battle of Franklin, but continuing to fall back to his defenses at Nashville. Once there, he built up his lines, but also allowed Hood to get into position. This provoked a series of stinging telegrams from Ulysses S. Grant, who believed that Thomas had a golden opportunity to crush Hood's army once and for all and was wasting time dithering around in Nashville. In fact, shortly before the battle, Grant sent a replacement to relieve Thomas if Thomas hadn't got off his duff by the time the replacement arrived.
In the end, the Union won the two day battle, but allowed Hood to get away with what was left of the Army of Tennessee. Hood resigned soon after, but the Army, what was left of it, continued to soldier on, shadowing Sherman's march through Georgia and North Carolina and eventually fighting the Battle of Bentonville before finally surrendering to Sherman in April, 1865.
UPDATE: Jordana at Curmudgeonry, who lives right near the Nashville Battle Monument, mentions taking her kids around to view the sites today. This reminds me of a standing threat at the Butcher's House. I grew up in San Antonio. Once you'd seen the Alamo, unless you were interested in Spanish Mission architecture you'd pretty much shot your bolt in terms of historical sites. Here in Northern Virginia, we are literally within a hundred miles of the sites of dozens of major battles and other historical events in U.S. history. I can't wait to start draggind the Llama-ettes around to see all of them. Damn Disney! Damn Sesame Street Live! You girls are charging up Cemetary Ridge whether you like it or not!
Heh, indeed.
Posted by Robert at December 15, 2004 11:30 AM