November 22, 2005
Carnival of Music No. 22 - Special St. Cecilia's Day Edition
(Updated)
The latest Carnival of Music is up over at Sounds Like Now. Go on over and browse.
UPDATE: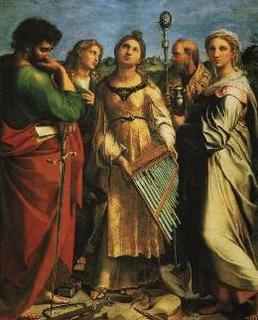 As it happens, today is St. Cecilia's Day. As she is the patron saint of music, it should be pretty obvious to you that she is one of my favorite of all saints. (Indeed, I have a Donatello relief of her on my piano.)
At least during the Baroque Era, a number of Odes were composed to mark the occassion and her patronage. I can recommend those of both Handel and Henry Purcell, although I'm sure many others exist as well.
And speaking of the Baroque, a year ago, I marked the day with some noodlings on playing Bach, which I repost now in honor of the day.
Posted by Robert at November 22, 2005 10:10 AM | TrackBack