November 09, 2005
Gratuitous Musickal Posting (TM) - Sic Transit Division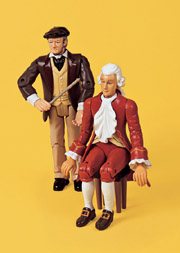 Mozart and Wagner Action Figures, courtesy of the Met.
Don't ask me what you're supposed to do with them, but the sales copy seems to anticipate bar fights:
This Mozart action hero proudly stands 5 ¼" high, ready to deck any composer with his piano bench. Wagner is ready for action as well, standing 5 ¼" high and brandishing a baton.
Who says classical music isn't for Real Men?
No word on whether they talk. You know, "You score the overture - I'll write the aria." Although if they were going for realism, Mozart would use a lot of bad language and have a very annoying, high-pitched laugh and Wagner would never shut up.
Yips! to Dave at The Glittering Eye.
Posted by Robert at November 9, 2005 08:44 AM | TrackBack