October 27, 2005
Happy Birthday, Mr. Fawlty!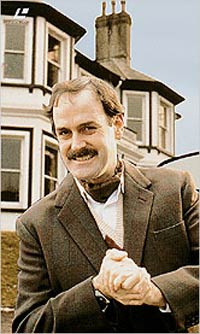 Today is the birthday of Python alum and all-around lunatic John Cleese.
I posted this particular pic in tribute because Fawlty Towers is my favorite work of Cleese's. Python certainly has its moments, but I don't think it can match FT for sustained sublime silliness. But that's just me. I'm sure all of you have your favorite Cleese moments - why not drop a comment about them?
(BTW - the curious thing about Cleese is that I have seen him interviewed a number of times and on occassion am struck by the sensation that he doesn't really understand why people think he's so damn funny. It's just something about the way he talks about things - flat, dull, misdirected. Then again, he may be doing in on purpose just to spike the interviewer.)
Posted by Robert at October 27, 2005 05:42 PM | TrackBack