October 25, 2005
I Just Lost A Bunch Of Brain Cells By Listening To Geico Ads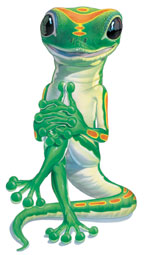 Geico has been running a very annoying radio ad in the Dee Cee market that features all sorts of fun facts about the District in an effort to make the company sound more local - things like references to the official Dee Cee flower and bird and so on.
The ad copy tries to tie all this back to the company by claiming that the gekko is the "official amphibian" of Dee Cee.
Well, no.
I'll leave aside the fact that Dee Cee doesn't have an "official amphibian". Instead, may I point out to any of you associated with Geico or its advertising firm that a gekko is a reptile? I mean, is it too much to ask that you pretend the gekko is the official lizard of Dee Cee? Or did one of your marketing people decide that would be too off-putting for Joe Public?
Stupid insurance company.......
Posted by Robert at October 25, 2005 12:09 PM | TrackBack