October 21, 2005
Lord help me, but I'm definitely going to Hell
The old maxim about "idle hands being the Devil's workshop" has been redefined a wee little bit since the invention of photoshop.
Anyhoo, in response to Robbo's erudite and well considered paen to the Battle of Trafalagar below, I immediately thought of this image; and within minutes of the Picard in my head saying, "Make it so" here it is: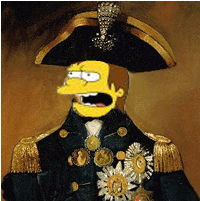 "Hey France, you sail like my Mother! And she's in Jail! HA-HAAAH!"
Lord Nelson Muntz
The tragedy of a liberal arts education wasted on a complete philistine.
Yips! from Robbo: To quote the sniper guy from Saving Private Ryan, "Y'all got that right."
Posted by Steve at October 21, 2005 12:42 PM | TrackBack