October 20, 2005
I'm Steve the LLamabutcher, and I need YOUR help!
Holiday season is rapidly descending upon us, and I'm sure as you are out there bravely putting together your holiday "to-do" lists you are wondering, "Jimbo, what exactly ARE those wacky LLamas going to do for their logo this holiday season?"
We've been thinking the same thing, and we need your help. We've got Christmas all sown up---a Santa and Mrs. Claus theme is just too precious to pass up. Thanksgiving? Why, Priscilla Alden and a kind of surly, naughty looking Squanto will flow rather seamlessly from the evil hands of photoshop. But Halloween has got me stumped: what do you, our faithful readers, truly desire in a photoshop logo which satisfies all our necessary requirements in a LLama Holiday Logo(TM)?
Let's refresh our memories as to what we look for in such a thing: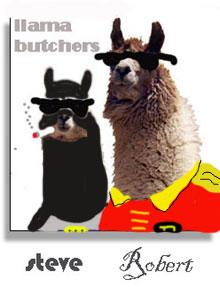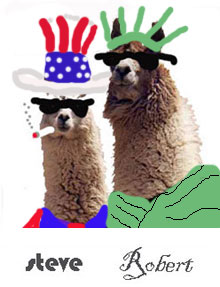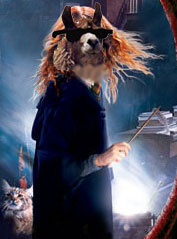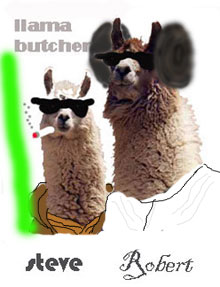 Well, you get the drift---Robbo LLama humiliation is the key to sucessful holiday marketing.
We've got reams of data to support it!
Anyhoo, drop us a comment or some suggestions to the TastyBits(TM) Mail Sack and watch the upper right logo for the beginning of the holiday season!
Yips! from Robbo: Jaysus - the things I'll do to fund the Llama-ettes' college tuition.......
Posted by Steve at October 20, 2005 11:17 AM | TrackBack