October 11, 2005
Gratuitous Musickal Posting (TM)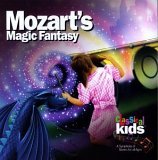 A while back, my pal Marjorie's daughters gave to one of the Llama-ettes as a birthday present a CD called Mozart's Magic Fantasy. It's basically a kiddie version of The Magic Flute, with the plot cut down a good deal, some of the libretto kiddy-cized and a couple of extra characters - a young girl and a talking dragon - added in order to make the story more identifiable, I suppose. But - and here is the important point - all of the music is straight out of the original opera with, as far as I can tell at a casual listen, little or no editing. And although some of the speaking voices are rather grating, the singing and the orchestral performances seem quite competent.
We've had this CD for a while now, but for whatever reason the Llama-ettes have gone bananas over it in just the past couple of weeks and have been listening to it over and over again. For one thing, they think Papageno is hilarious. And they ask me an awful lot of questions about the relationship between Sarastro and The Queen of the Night. I also think they genuinely love the music - this weekend they started belting out the Queen of the Night's signature aria at me - quite the experience, let me tell you.
While I've told the gels that there is a "grown up" version of the story, I'm not too concerned with the alterations this CD makes. The truth of the matter is that I've always thought The Magic Flute to be rather silly. As Dad has pointed out, the trick is to ignore the plot and just concentrate on the music, which itself is divine. So mangling the story a bit "for the children" does not rankle, since the music hasn't been messed about.
This CD is in English, of course, so the kids can make sense of what's going on. However, I see another bonus in it as well, since I've always thought German an ugly language - harsh and gutteral and suggestive of wolf-haunted forests, dismal swamps and cries of, "Varus! Give me back my Eagles!"
But that's just me.
Anyhoo, if you're looking for a good way to introduce small kids to opera, you seriously should consider this CD.
UPDATE: Here's the whole Classical Kids series. All of them look like they're pretty solidly grounded, musically. Some interesting biographical material woven in as well.
Posted by Robert at October 11, 2005 01:13 PM | TrackBack