October 04, 2005
Eric the Diarist
I'm currently reading a nice little book that I found quite by accident in the San Francisco airport: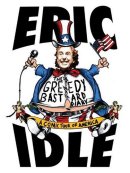 The Greedy Bastard Diary, by Eric Idle.
Here's an enthusiastic review. If you're a Monty Python fan, I think you'd like this. Basically, it is a journal of Idle's 49 city North American tour in 2003. In fact, it is essentially a paper blog - full of brief descriptions of the places he visits, noodlings on stage performing, observations on this, that and the other, and reflections on the Python crowd and other folks he has known (such as, for example, George Harrison). Idle's style is good humored and chatty. A sample:
You think I'm the only greedy bastard? You haven't heard the half of it. Wait till I get on to the tall one [John Cleese], whose love of the odd nickel leads him to be constantly yearning for a hammock, an island, and a book, but who we all know will never make it. He has been saying this since 1968, but he works so hard, he'll never stop. In fact he is in so many movies with "two" on them that we have labelled him The First Among Sequels. John once told me he would do anything for money, so I offered him a pound to shup up, and he took it.
The book is full of this sort of thing. As I say, if you're into something completely different, I think you'd find it very enjoyable.
Posted by Robert at October 4, 2005 01:42 PM | TrackBack