October 04, 2005
Happy Birthday, Frederick Remington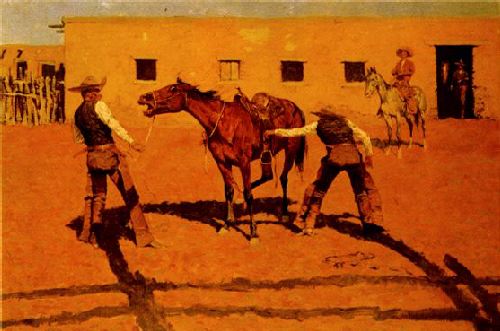 "His First Lesson"
Today is the birthday, in 1861, of Frederick Remington, whose drawings, paintings and sculptures can be said to have defined the way Americans view (or at least used to view) 19th Century western expansion.
I toss this out primarily because the first book of art my parents ever gave me was a collection of Remington's work. I was quickly taken in by the images of the cowboys, cavalrymen and Indians and the harshness of the frontier, particularly since I lived in Texas and spent a lot of time tramping around in the Hill Country. An old stage road ran through the ranch where we used to hunt and the remains of a number of pioner homesteads still dotted the landscape. Further, there was a story about an outlaw being gunned down by the Texas Rangers near one of the hollows we frequented - he was supposed to have been buried somewhere around there with his spurs on.
Even though I've long since come back East, this kind of thing still holds an appeal for me.
Posted by Robert at October 4, 2005 11:07 AM | TrackBack