October 04, 2005
Just in time for all your Ramadan gift needs
Robbo's wife has been pressuring me for awhile to get our t-shirt sales going. My sense is that we'll do it through cafepress; even though we'll clear two cents per, the thought of having llamabutcher gear out there just gets me all, well, leafblower fired up if you know what I mean.
So....what should be the LLamabutcher T-shirt design? And by t-shirt design, I of course mean thongs. Because what would really say "joyful greetings upon the 2006th birthday of the Son of the Most High" more than a thong with surly sunglasses wearing, smoking LLamas on it? Exactly: not much.
Anyhoo, what should be the look? My original thought would be some variation on the classic logo: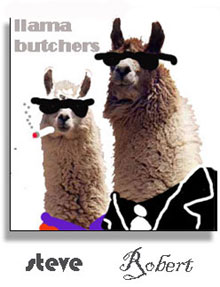 (and all it's subsequent permutations: Batman and Robin LLamabutchers, Obi-wan and Princess Leia LLamabutcher, Uncle Sam and Lady Liberty LLamabutchers, Tijuana Bikeweek prison LLamabutchers etc.) (not that there's anything wrong with that)
There's the Ferris Bueller motif: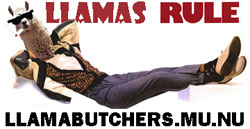 The infamous Colin Firth Darcy LLamabutcher: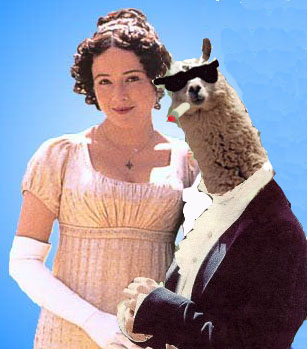 A little retro-oh-four look: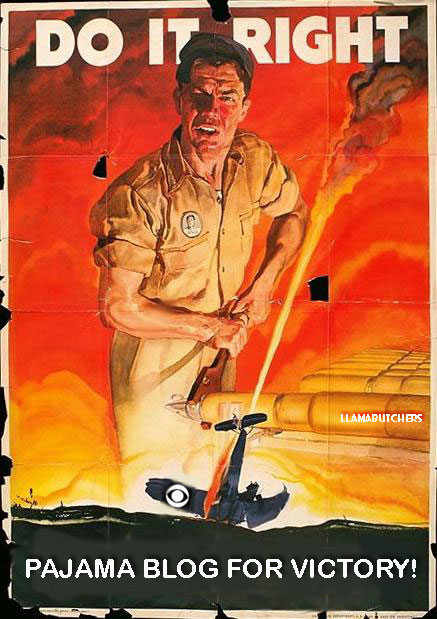 Let us know in the TastyBits(TM) mail sack what you think. Our early retirements depend on your answer!
UPDATE: I'd like to use this one, but there's no way I'm going to subdivide my share of the crazy blog money with Sadie.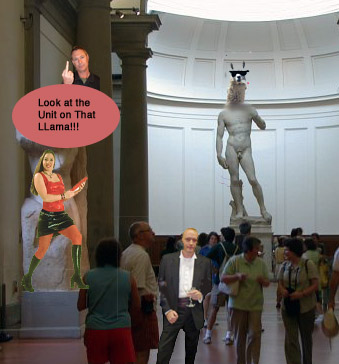 Posted by Steve at October 4, 2005 08:42 AM | TrackBack