September 29, 2005
Hold on to your hats
The last week of the AL Pennant Race is a rocking....
In a nice touch, the Red Sox had star center fielder Johnny Damon throw out the first pitch: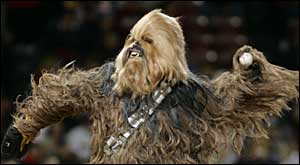 YIPS! from Robbo: As the Irish Elk pointed out a few days ago, the Fates have a very nice sense of the dramatic. And here I was thinking I could avoid this kind of nail-biting, stomach-churning, sleep-depriving tension until the playoffs at least.

Posted by Steve at September 29, 2005 09:53 AM | TrackBack