September 22, 2005
It's Abaya Barbie!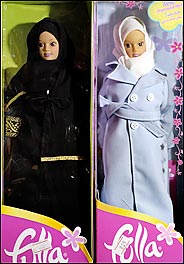 Actually, her name is Fulla and apparently she's selling like gang-busters all 'round the Middle East. You can read the article either as an example of a company that hit the sweet spot with its marketing campaign, or else as a leading indicator of creeping Islamic conservatism. Or perhaps both.
The Llama-ettes have a whole sorority house worth of Barbies. I'm a little uneasy about this concept of a direct link between dolls' costumes and the promotion of kiddie moral values, because every single one of their dolls is buck-naked, right down to Little Mermaid Barbie, who got stripped of her tail.
UPDATE: Well, in the name of fairness, I hunted around a bit to see if I could find Evangelical Barbie. But no dice. However, I did come across this site which includes, among many others Stable-Boy's Punishment Barbie, Biker Barbie and "Daaaa-aaad! When Do I Get To Play With Her?" Barbie.
Posted by Robert at September 22, 2005 03:29 PM | TrackBack