September 20, 2005
Wayne's World
With the arrival of Bella, the new Llama-cat later this afternoon, the female to male ratio at the Butcher's House will reach 6 to 1. In short, I'm completely surrounded.
Fortunately, Netflix is sending in the anti-estrogen cavalry: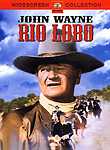 I'm pretty sure that I've seen this movie before, but I have no recollection of it whatsoever. So this counts as a new one for me.
Poking around, I was pleased to see that Roger Ebert understands John Wayne movies:
We go to a classic John Wayne Western not to see anything new, but to see the old done again, done well, so that we can sink into the genre and feel confident we won't be betrayed. To some degree Wayne movies are rituals, and so it is fitting that they resemble each other. "El Dorado" was a remake of Hawks' "Rio Bravo" (1958), and "Rio Lobo" draws from both of them. (It is said that when Hawks called Wayne and offered to send over the script, Wayne replied, "Why bother? I've already made the movie twice.")
Ya got that right, pilgrim. And even with all the fussing and cooing and baby-talk I'm going to have to hear over the damned cat, I reckon that with the Duke riding shotgun (and maybe some Beam and a cigar), I can make it through.
UPDATE: And for those of you wondering how I can go from babbling about Tolkien to babbling about John Wayne movies at the drop of a hat, let's just say that the voices in my head have worked out a pretty good time-share agreement.
UPDATE DEUX: It turns out I had not seen this movie before. Frankly, it's a bit flat compared to El Dorado and Rio Bravo, both of which are among my favorites, but it's still okay.
Posted by Robert at September 20, 2005 04:51 PM | TrackBack