September 06, 2005
Gratuitous Llama Netflix Virgin Movie Review #3*
*dedicated to the inauguration of my Netflix account with movies I've never seen before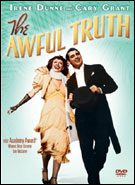 The Awful Truth, with Cary Grant and Irene Dunne (who is quite easy on the eyes, by the way).
What a lot of fun to watch Grant and Dunne playing off each other. To me, the looks each one flashes are just as funny, if not more so, than the physical humor. Dunne maintains an appearance of good humored serenity that compliments Grant's ever changing facial expressions very nicely - I'm thinking particularly of the scene when they're watching Joyce Compton's Dixie Bell Lee do her appalling nightclub act.
Nonetheless, the physical humor is pretty funny too - particularly the recital scene and the bit where Grant is tickling Dunne from behind the door as she's trying to get rid of Ralph Bellamy's Dan Leeson.
I don't think this movie has as much wit and polish as, say, Holiday or His Girl Friday. Also, I think more could have been made out of the big scene when Dunne crashes the Vance's house pretending to be Grant's sister - the delivery didn't quite match the set-up. But these are minor quibbles. And by the end, as the clock was ticking down towards midnight and Grant kept coming to Dunne's door, I found myself thoroughly taken in by the story. Just confess you were a jerk and ask forgiveness, you fool! I kept thinking.
Oh, about the dog, Mr. Smith. His howling at Grant's piano playing reminded me sharply of Fergus, the Scottie we owned when I was growing up. He, too, would bay at the keyboard. We could never figure out whether he did this because he liked the music or because he hated it. And he was rather selective - I don't recall that he howled at Bach or Beethoven much. But Mozart set him off, as did Haydn. (I still have a collection of Haydn sonatas with teeth marks in it from the time he snapped back after I smacked him with it to try and get him to shut the hell up.) But his all-time top composer was Schumann. Mom used to serve up a rendition of Traumerei that would send the dog into absolute fits.
But I digress.
VERDICT: Well worth it. And I would definitely see it again.
Posted by Robert at September 6, 2005 12:54 PM | TrackBack