August 26, 2005
Gratuitous French-Bashing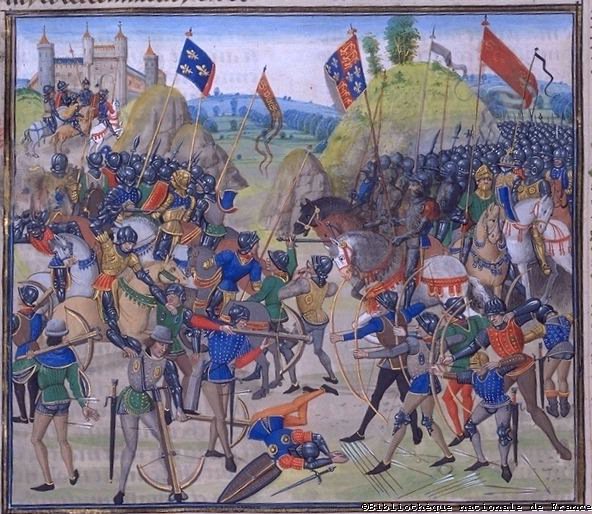 Today is the anniversary of the Battle of Crecy in 1346, in which Edward, Black Prince of Wales and his English longbowmen thrashed the French knights. (I hope you're paying attention, Steve-O.)
Shakespeare couldn't resist getting in a dig about it in his buildup to the battle of Agincourt:
Charles the Sixth:

Think we King Harry strong;
And, princes, look you strongly arm to meet him.
The kindred of him hath been flesh'd upon us;
And he is bred out of that bloody strain
That haunted us in our familiar paths:
Witness our too much memorable shame
When Cressy battle fatally was struck,
And all our princes captiv'd by the hand
Of that black name, Edward, Black Prince of Wales;
Whiles that his mountain sire, on mountain standing,
Up in the air, crown'd with the golden sun,
Saw his heroical seed, and smiled to see him,
Mangle the work of nature and deface
The patterns that by God and by French fathers
Had twenty years been made. This is a stem
Of that victorious stock; and let us fear
The native mightiness and fate of him.
-Henry V, Act II, Scene 4
What is remarkable is that the battles of Crecy and Agincourt occured nearly 70 years apart, and yet the English whomped the French in almost exactly the same way each time. This says a lot about the stubborn refusal of the French Aristocracy to believe that the horse-mounted knight had been made obsolete by a longbow-weilding yeoman, a concept totally at odds with Medieval notions of chivalry.
UPDATE: Speaking of which, if you haven't read Barbara Tuchman's A Distant Mirror, you really ought to.
Posted by Robert at August 26, 2005 02:02 PM | TrackBack