August 16, 2005
Gratuitous Llama Vacation Book Review
I took the four or five books I'm currently reading along on vacation with me with the thought that it would be a good opportunity to finish them off. However, once I got up to the cottage, I discovered that someone had left a copy of this lying about: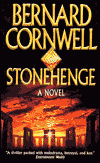 Stonehenge, by Bernard Cornwell.
Cornwell writes the Richard Sharpe series, which I've always enjoyed, so I of course had to chuck my pre-planned reading list and dive into this instead.
Well, all I can say is that if you like your early Bronze Age history long, uneven and Machiavellian, this is the book for you. It is a vast novel that purports to follow the life of one Saban, who eventually becomes the architect of Stonehenge, as he is battered about Wiltshire and South Wales by the forces of Nature, Religion, Politics, Greed and Sex. The book comes with a complete set of stock Dawn of Civilization characters- the Good Hero, the Eviiiil Warlord, the beautiful Blond Babe, Witches, Warlocks and Wise Elders. In fact, the best part of the novel is Cornwell's Afterward, in which he impishly states that the entire story is complete buncum, since nobody knows much of anything about the culture of the period or the reasons behind the construction of Stonehenge. However, his survey of hard archeological evidence to date is also quite interesting.
I say the book is uneven for two reasons - first, Cornwell displays the same fault I often find in the Sharpe series of hammering what he thinks are important points by mind-numbing repetition. Second, he has an odd way of short-changing his characters' lives (and deaths) by neglecting to give us much insight into them and instead devotes too much ink to descriptions of physical surroundings and activities. I also note that Cornwell didn't bother very much with trying to pitch the dialogue to the times, but instead simply gives us modern-sounding characters dressed up in prehistoric costumes.
All in all, though, an enjoyably lightweight summer book. Lots of fighting, obligatory ritual, em, fooling around and intrigue. Perfect for when you don't feel like having to think too hard.
UPDATE: I also meant to mention that I am starting in on a new novel the Missus picked up for me at a used book sale: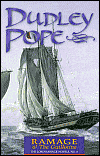 Ramage and the Guillotine, by Dudley Pope. It is part of a series of previously-unknown-to-me stories of Nelson's navy during the Napoleonic Wars. So far, it reads much like C.S. Forester's Hornblower series, except that Lord Ramage isn't half so moody and broody as Horatio H and there are actually some signs of humor about Lord R. I own a couple of Pope's non-fiction works about the period, including The Black Ship (about the mutiny aboard H.M.S. Hermione), Decision at Trafalgar and Life in Nelson's Navy, all of which are quite well written. There appear to be something like fifteen books in the Ramage series, so here's a whole new ocean in which to sail.
I must say, though, that reading and rereading the sea novels of Pope, Forester and others, the one thing that keeps coming back to my mind is just how utterly Patrick O'Brian blows them all out of the water, like a three-decker going against a sloop. No contest, whatsoever. Ironically, I believe the lesser literary works would translate better to the screen. But that's a rant for a different day.

Posted by Robert at August 16, 2005 12:38 PM | TrackBack