June 12, 2005
And now, in sports.....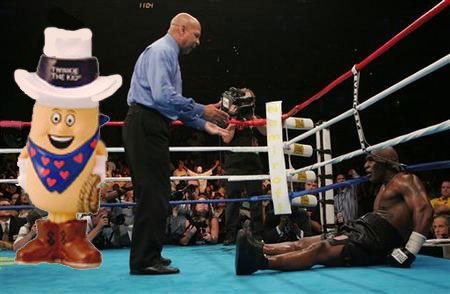 Saturday night the sports world was turned upside down when former world heavyweight champion Mike Tyson was knocked out in the sixth round by snack cake mascot Twinkie the Kid.

WASHINGTON (AP) - Mike Tyson's career apparently ended in yet another shocker Saturday night when he quit on the stool after taking a beating in a foul-filled sixth round against snack cake mascot Twinkie the Kid.
Tyson lost for the third time in his last four fights, and once again he faded badly as the rounds went on before deliberately head butting Twinkie the Kid in a desperate attempt to end the fight in the sixth round.
"I don't have the stomach for this anymore," Tyson said. "I most likely won't fight anymore. I'm not going to disrespect the sport by losing to this caliber of fighters. I mean, sure, I've had the crap beaten out of me by a tomato can, but a damn snack cake?"
Tyson was out of gas when he was pushed to the canvas as the sixth round ended, his head stuck between the first and second ropes. He stayed there for several seconds before finally untangling himself from the ropes and wobbling back to his corner.
When referee Joe Cortez came by to look at him, his corner told Cortez the fighter could not continue. Cortez then went over and raised Twinkie's hand in victory while he still sat on his stool.
Tyson, meanwhile, just sat on his stool blankly watching Twinkie's celebration, a white towel draped over his shoulder. When he got up to congratulate his opponent, Twinkie kissed him on the left cheek. Then, he went to center ring, and, surrounded by reporters and with eyes closed from the beating he had taken, he yelled, "Yo, Little Debbie!"
"I could have gone on but I thought I was getting beat," Tyson said. "I don't think I have it anymore."
Tyson was winning, ahead 57-55 on two scorecards and behind by the same score on a third. But the fight had clearly changed and Twinkie had taken over and it only figured to get uglier as it went on.
The Associated Press had the fight even, 56-56.
The 38-year-old Tyson was a huge favorite over Twinkie the Kid and won the early rounds. But as the fight went on, it was Twinkie landing the bigger punches as Tyson desperately tried to score a knockout.
Tyson was weary by the fifth round and, in the sixth round, he was penalized two points for deliberately head butting Twinkie and opening a cut over his left eye. The head butt came after Tyson appeared to try to break Twinkie's arm in a clinch like he once did against Chief Big Wheel and after he hit him with several low blows.
Cortez warned Tyson after he grabbed Twinkie's arm, telling him "I don't want any more fighting with the arms, understand?"
When the action resumed, Tyson then head-butted Twinkie, forcing Cortez to stop the fight briefly to allow McBride to recover and to penalize Tyson, and to clean up the white fluffy filling that was pouring out of the snack cake's head.
"He tried to break my arm and he butted me," Twinky said. "That's the rough stuff in boxing."
In a career filled with tremendous highs and terrible lows, Tyson may have reached a new low in the loss to Twinkie, an over the hill Snack Cake who came into the fight with no credentials.
Tyson (50-6) was a shell of the fighter he once was, throwing wild punches and trying to knock out Twinkie with each shot. But Twinkie (334 calories) took the punches and came back with some of his own and Tyson gradually began wearing down.
The sixth round was bizarre even by the standards of a fighter once banned from boxing for biting Evander Holyfield's ears.
Tyson was clearly exhausted and opened the round by throwing wild shots. He then appeared to try to break Twinkie's arm, drawing a protest from the baked and frosted fighter. Tyson wasn't through. He banged his bald head against Twinky, prompting Cortez to take two points from him for the foul.
Tyson was tentative early, showing little of the aggressiveness that once made him a feared fighter. Twinky stood right in front of him, but Tyson was content to land only one punch at a time, perhaps remembering how he ran out of gas in his previous fights.
"There's no rush," trainer Jeff Fenech said after the first round.
But it turned out there was a rush as Tyson faded just as he did against the Hamburgler last July. That loss was blamed on torn cartilage in Tyson's leg, but it was clear even to the pro-Tyson crowd of 15,472 at the MCI Center on this night that Tyson was a shot fighter.
The 6-foot-5 snack cake towered over Tyson and weighed 271 pounds to 233 for the former champion. But he had been knocked out four times by lesser fighters and wasn't expected to give Tyson much of a fight.
"This win was for the pride of Hostess Foods," Twinkie said. "I proved everyone in the effing Atkins Cult wrong tonight."
Tyson got some prefight guidance from Muhammad Ali, who visited him in the dressing room. Of course, Ali thought he was in the Men's Room at the old Atlanta Omni, talking to Elvis Presley. But even The Greatest couldn't do anything for the conditioning and reflexes of a fighter who really hasn't beaten a top heavyweight since he defeated Razor Ruddock 14 years ago.
Tyson badly needed the win after being stopped by Williams, and vowed in the week before the fight that he would regain the heavyweight title. He told Twinky he would "gut you like a Filet O' Fish" and claimed he was once again in top condition.
Everyone without an dab of white creme filling on their shirt was at the arena hoping to see Tyson show them flashes of the fighter he once was when he ruled the heavyweight division. But Tyson was tentative, threw punches one at a time and grew increasingly frustrated as Twinky took everything he had.
Tyson was paid $5 million for the fight, which was on the low end of purses he has made in his career. After his creditors got $2 million, the IRS got its cut and his ex-wife got $750,000, so there wasn't much left for the fighter. The bitch set him up, indeed.
Tyson still owes nearly $40 million and there were plans for him to fight up to seven times to pay off the debt. But those plans didn't include Tyson taking the kind of beating that Twinky the Kid was beginning to administer to him in the fifth and sixth rounds.
Twinky was paid $150,000, the same amount he turned down last year to fight Tyson. Twinky has an intimidating nickname in "the Kid", but has been knocked out four times and has never beaten a boxer of any note.
One of those knockout losses came in 1998 in England to a fighter named Michael Murray, who won only one time in his last 17 fights - against Twinky.
No word yet from Mayor McCheese, who was scheduled to have his fighter Grimace fight Tyson outside of the Hard Rock Cafe in Cleveland in September.

Coming soon: The Ballad of Twinkie the Kid
Posted by Steve at June 12, 2005 11:58 PM