April 27, 2005
Sci-Fi Babe Polling
JohnL's got the latest installment up over at TexasBestGrok. This week, it's a straight two-way battle between Lieutenants of Star Trek TOS, specifically "Kirk's Woman" Marlena Moreau from the Bearded-Spock Universe and Khan-Groupie Marla McGivers. As always, vote early and often. And be sure to stop by John's Gallery of Winners for previous results.
I know it's a bit of a stretch, but I'm going to propose a write-in candidate this week, since technically, she could be considered part of the TOS crew: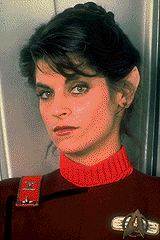 Lt. Saavik got taken out by T'Pol in the Vulcan Edition, so I'd like to give her another shot. But that's just me.
Posted by Robert at April 27, 2005 01:49 PM