May 06, 2005
Oh, Mee-OW!
Ladies and Gentlemen, I give you the Kitten Cannon. Just point and shoot! My top score after a couple minutes playing with it: 577 feet.
Enjoy!
Yips! to Jonah.
UPDATE: 899 feet - got some excellent secondary boosts.
UPDATE DEUX: 1246 feet! Yesssss! Those ammo dump strikes really kick that baby along!
UPDATE TROIS: Whoops! Major faux pax on my part - here I was thinking of my own cat, who has taken advantage of the recent demise of our other cat to make a thorough pest of herself in the attention department, and I completely forgot about the sensibilities of our pal the WSK! My apologies!
YIPS from Steve: Re WSK---it's a feature, not a bug!
FURTHER YIPS from Steve:
Read it and weap, LLamaboy!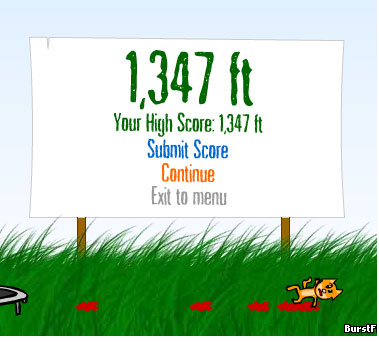 Posted by Robert at May 6, 2005 04:53 PM